Modell Nr.: 800
Das ERGIL Storagetech Drehgelenkdachablaufsystem – Modell 800 eignet sich besonders für externe Schwimmdachspeicher, um das Regenwasser abzulassen. Mit der richtigen Materialauswahl ist es für alle Arten von Lagergütern geeignet.
Drehgelenke zeichnen sich durch ein ausgeklügeltes Design aus, welches eine modulare Konstruktion umfasst, die für eine Vielzahl von Anwendungen geeignet ist. Drehgelenke sind der zentrale Teil des Systems und werden verwendet, um gleichzeitig Schwenkbewegungen oder langsame Drehbewegungen auszuführen. Drehgelenke sind für spezielle Innenausstattungen von Lagertanks wie schwimmende Saugeinheiten, Abflusssysteme und Ölskimmer ausgelegt. Für verschiedene Anwendungen stehen jedoch unterschiedliche Modelle zur Verfügung. ERGIL Drehgelenke sind in Kohlenstoffstahl, Edelstahl und Aluminium erhältlich. Sizes are ranging from 2" to 40" usually sealed with PTFE but can be modified as per the application and stored product type.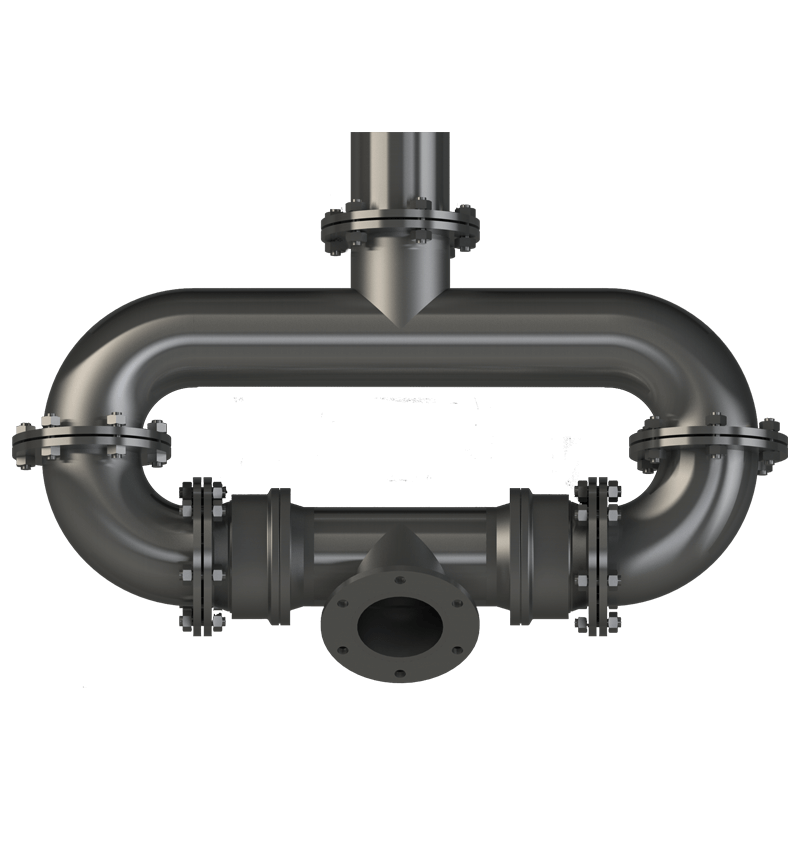 Die Größen reichen von 2 Zoll bis 40 Zoll und sind normalerweise mit PTFE abgedichtet, können jedoch je nach Anwendung und gelagertem Produkttyp modifiziert werden.
Die alternative Spirale mit äußerem Draht komprimiert und dichtet die Schlauchwand ab.
Das Polypropylengewebe bietet eine chemikalienbeständige Bohrung.
Gepresste Enden: Kohlenstoffstahl (optional: Edelstahl) und Edelstahlzwingen
Montage der Seitenplatten – Seitenplatten: Verzinkter Kohlenstoffstahl (Optional: Edelstahl oder bestimmte Beschichtungen)
Erhöhte Korrosionsbeständigkeit/Kompatibilität mit anderen Produkten
Schrauben, Muttern, Hülsen und Distanzstücke sind aus Edelstahl
Flanschschrauben und Dichtungen – Dichtungen: 150 lb spiralgewickelter Edelstahl, Schrauben: A193-B7, Sechskantmuttern: A194-2H
Das Engineering-Team von Storagetech hat geschmierte Doppelring- und dreifach abgedichtete Drehgelenke entwickelt, um dauerhafte Sicherheit und Komfort für die schwimmenden Saugeinheiten und ihre Anwendungsbereiche zu bieten.
Dieses System kann in Ihr bestehendes Automatisierungssystem integriert werden.
Unterschiedliche Hochleistungswerkstoffe ermöglichen die Anpassung an die unterschiedlichsten Fördergüter, aggressive oder explosive Flüssigkeiten oder Gase. Drehgelenke können die kritischsten Produkte handhaben.
Entwickelt für die anspruchsvollsten technischen Probleme
Minimaler Druckverlust und keine Leckage – vakuumfest und für Betriebsdrücke geeignet.
Wartungsfreundlich durch Langzeitschmierung. Praktisch wartungsfrei.
Zertifizierte Zuverlässigkeit zur Erfüllung relevanter internationaler Standards
Fordern Sie ein Angebot an
Benötigen Sie ein schnelles Angebot? Füllen Sie das Formular aus und wir melden uns in Kürze
Lesen Sie mehr von uns über schwimmende Saugeinheiten!