Modellnummer: 142
Das Druckentlastungsventil Modell 142 von Storagetech wurde für die Installation an Massenspeichertanks entwickelt und schützt den Tank vor übermäßigem Innendruck.
In der geschlossenen Position werden die Druckentlastungspalette und die Membrananordnung fest gegen eine Dichtung gehalten, um den Verlust von Dampf an die Atmosphäre zu verhindern. Steigt der Innendruck im Tank durch Produktfüllung und Dampfentwicklung und wird der eingestellte Druck des Gerätes erreicht, öffnet die Membrane und entlässt das Gas in die Atmosphäre. Der Öffnungssollwert ist aus einem Bereich zwischen +61 mbar und +1000 mbar (+24 Zoll W.C. und 400 Zoll W.C.) wählbar, und das Ventil schließt, wenn der Tank auf einen sicheren Druck zurückkehrt.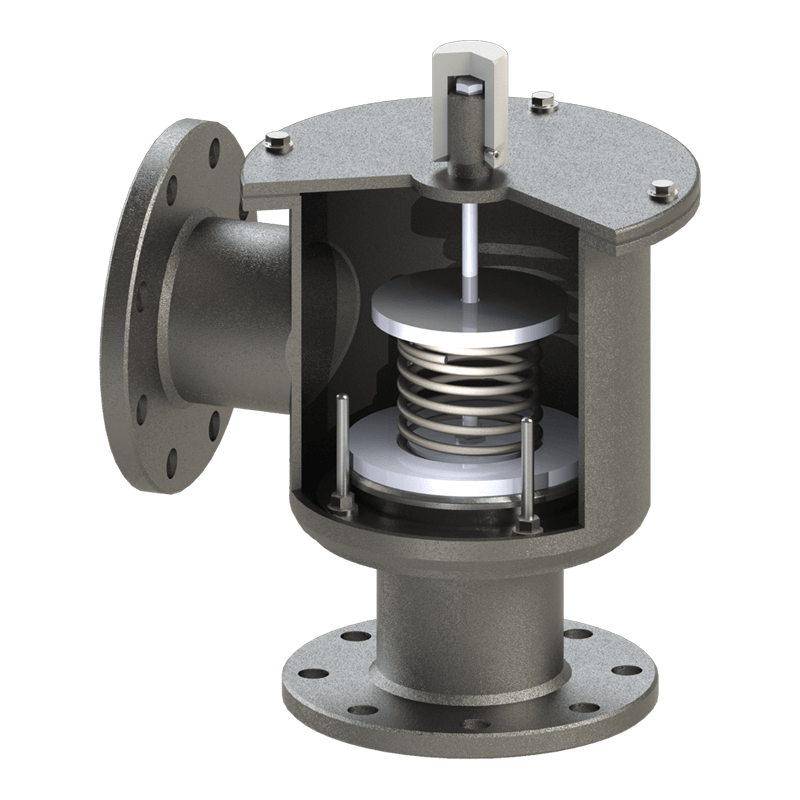 Dem Ventildesign sind mehrere Merkmale eigen, um einen reibungslosen, sicheren und effektiven Betrieb zu gewährleisten. Das Gehäuse ist selbstentleerend und Tropfringe verhindern, dass sich Kondensat auf den Sitzflächen absetzt. Eine aus Teflon hergestellte Membran und Dichtung verringern die Möglichkeit der Eisbildung und klebriger Rückstände, die das Öffnen des Ventils behindern, während sich die Palettenbaugruppe frei auf Führungspfosten bewegt.
| | |
| --- | --- |
| Pressure | Spring-loaded +61 mbar and +1000 mbar (+24 inch W.C. and +400 inch W.C.) |
| Ambient temp | -20°C to +60°C |
Standard sizes
2" to 12" 50 to 300mm
Flanges
API Class 150 RF, DIN PN16
Body
Carbon steel, stainless steel, or aluminium
Seals
Nitrile, Teflon, and Klingrit
Pallet
Stainless steel AISI 304
Springs
Stainless steel
Paint finish
1-) Powder Coating, Colour RAL 9006
2-) Epoxy Paint, Colour RAL 9006
3-) Customer Specification
ATEX cert
Ex II 1/2 G c IIB
The integrity of the seal is tested for leakage in accordance with API Standard 2521 – Use of Pressure-Vacuum Vent Valves for Atmospheric Loss.
The size of the vent should be calculated in accordance with API Standard 2000 (ISO 28300) – Venting Atmospheric and Low-Pressure Storage Tanks or other international standards.
Data sheet, Pressure Relief, Vacuum Relief, and Pressure-Vacuum Relief Valves
Fordern Sie ein Angebot an
Benötigen Sie ein schnelles Angebot? Füllen Sie das Formular aus und wir melden uns in Kürze
Lesen Sie mehr von uns über Druck-Vakuumventile!
Äager GmbH receives approval from the Northern Iraqi Regional Goverment Ministry of Natural Resources (MNR)
seyma.ekici