Numéro de modèle : 140
Rejet à l'atmosphère, assemblage de palettes chargées
Conçue pour être installée sur des réservoirs de stockage en vrac, la soupape de surpression modèle 140 de Storagetech est conçue pour protéger le réservoir d'une pression interne excessive.
En position fermée, la palette chargée lestée et l'ensemble diaphragme sont maintenus fermement contre un joint pour empêcher la perte de vapeur dans l'atmosphère. Au fur et à mesure que la pression interne dans le réservoir augmente, en raison du remplissage du produit et du développement de vapeur, la pression dans le réservoir augmente et, si la pression de consigne de l'unité est atteinte, le diaphragme s'ouvrira et déchargera le gaz dans l'atmosphère. La consigne d'ouverture est sélectionnable dans une plage comprise entre +2,0 mbar et +60 mbar. (+0,8 pouce W.C et +24 pouces W.C), et la vanne se fermera lorsque le réservoir reviendra à une pression sûre.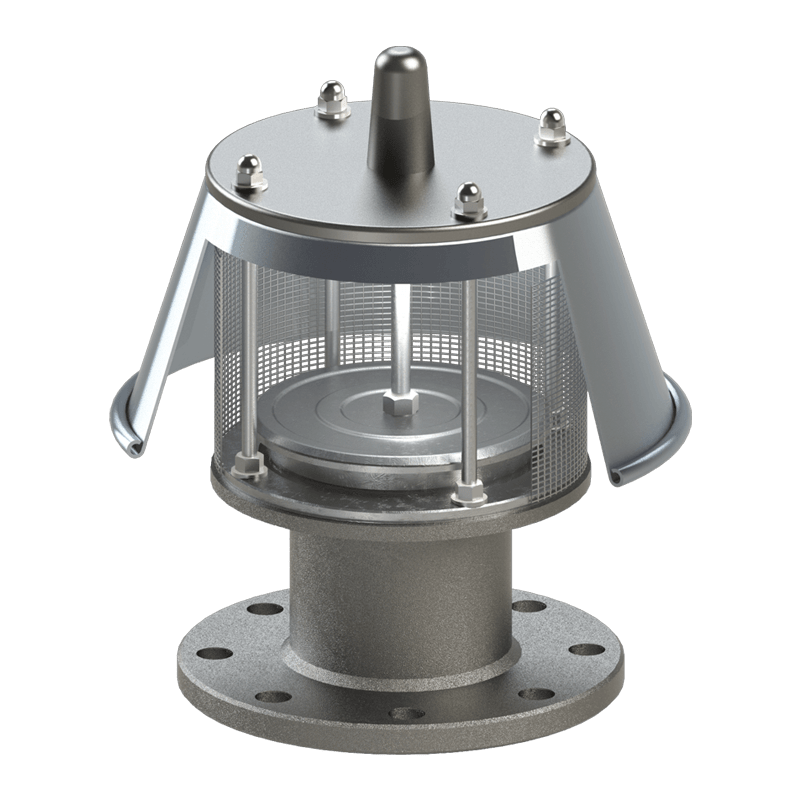 L'orifice de sortie est protégé par une hotte anti-intempéries et une grille de protection pour empêcher la pénétration de débris qui pourraient obstruer l'ouverture.
Plusieurs caractéristiques sont inhérentes à la conception de la vanne pour assurer un fonctionnement fluide, positif et efficace. Le corps est auto-drainant et les anneaux d'égouttement empêchent le condensat de se déposer sur les surfaces d'assise. Un diaphragme et un joint fabriqués en téflon réduisent la possibilité de formation de glace et de résidus collants empêchant l'ouverture de la vanne, tandis que l'ensemble de palette se déplace librement sur des poteaux de guidage.
Pressure
Weight-loaded +2.0 mbar and +60 mbar. (+0.8 inch W.C and +24 inch W.C)
* Different settings can be done as per request.
Ambient temp
-20°C to +60°C
Standard sizes
2" to 12" 50 to 300mm
Flanges
API Class 150 RF, DIN PN16
Body
Carbon steel, stainless steel, or aluminium
Seals
Nitrile, Teflon, and Klingrit
Pallet
Stainless steel AISI 304
Weights
Carbon steel, stainless steel, or aluminium
Paint finish
1-) Powder Coating, Colour RAL 9006
2-) Epoxy Paint, Colour RAL 9006
3-) Customer Specification
ATEX cert
Ex II 1/2 G c IIB
The integrity of the seal is tested for leakage in accordance with API Standard 2521 – Use of Pressure-Vacuum Vent Valves for Atmospheric Loss.
The size of the vent should be calculated in accordance with API Standard 2000 (ISO 28300) – Venting Atmospheric and Low-Pressure Storage Tanks or other international standards.
Data sheet, Pressure Relief, Vacuum Relief, and Pressure-Vacuum Relief Valves
Demander un devis
Avez-vous besoin d'un devis rapide? Remplissez le formulaire ci-dessous et attendez notre réponse bientôt
En savoir plus sur les soupapes à pression et à vide !