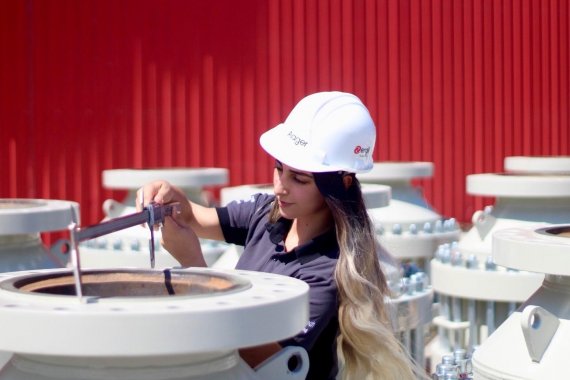 Istanbul, Sep 08, 2020 – As Äager Brand Storagetech is proud to supply 18 PCs ATEX certificated, custom-made 110 bar tested high pressure 16" In-Line Flame Arrestors to Novi Sad Part of GazProm Transmission Gas Pipeline Project.
Storagetech is proud to announce that 16″ deflagration flame arrester ATEX certificate has been received from the certification company. On the other hand 10″ deflagration flame arrester sample unit has been shipped to laboratory for testing.
Storagetech  has also planned to get ATEX certificates for all size of detonation flame arresters. After design analysis, test sample (12″) will be shipped for testing to laboratory at first priority. Later on, other size flame arresters will be testes and certificated accordingly.
Who is Storagetech Brand?
Äager Brand Storagetech is an ATEX certified designer and manufacturer with extensive experience providing technologically advanced flame arrestors & storage tank valves for oil, gas, petrochemical, chemical, pharmaceutical, agro, water, waste water treatment, and utility industries, successfully received ATEX directive IIA Certificate deflagration type in line flame arrestors series from 2" inch to 16" inch which is approved to EN ISO 16852:2016.
What is an In-line Flame Arrestor?
Sometimes it is desirable to install flame arresters in the middle of a long pipeline. They are particularly suited for installation inside a tank house where vent pipes or lines are extended through the tank house roof or walls to the outside. Locating the unit inside eliminates difficult inspections on the storage tank roof and protects the vent from the freezing of condensate. Combustion in a pipeline can readily make the transition from deflagration to detonation; in the case of some designs a detonation can be stopped, whereas a deflagration may pass through. Therefore, an in-line flame arrester must withstand and stop both types of combustion from both downstream and upstream in a pipeline. Since the pressure developed in the combustion can be high, the in-line arrester and pipeline must be properly designed, constructed and tested. The flame arrester element itself must be capable of withstanding substantial pressure differentials in both directions as a result of the combustion. Please note that Storagetech flame arrester production, assembly and tests are in accordance with EN ISO 16852:2016.
Deflagration arresters facts:
• Stop the propagation of a flammable mixture.
• Act as a fire barrier to prevent the passage of a flame and dissipatethe heat of the flame below the auto-ignition temperature of the combustible vapour emitted by the flammable liquid.
• They are categorised as two different types: in-line and end of-line.
• They are designed to be used as a barrier between the tank and the vent in order to safeguard the tank's contents from ignition inside a tank.
• Prevent flame flashback for 30 minutes of continuous burning.
What is the Project?
In 2009, Gazprom and Srbijagas signed the Agreement on setting up a joint venture for the Banatski Dvor UGS facility. The Banatski Dvor UGS facility is one of the largest gas storages in southeastern Europe. The facility was commissioned in November 2011. With a working gas capacity of 450 million cubic meters, the UGS facility has a maximum gas deliverability of 5 million cubic meters per day.
As Äager Brand Storagetech is proud to supply 18 PCs ATEX certificated custom-made 110 bar tested high pressure 16" In-Line Flame Arrestors to Novi Sad Part of GazProm Transmission Gas Pipeline Project.
On the other hand; 31 PCs custom design 4″ In-Line Flame Arrestors (CS), 3 Pcs custom design 6″ In-Line Flame Arrestors (SS316), 1 PCs custom design 8″ In-Line Flame Arrestors (SS316) have been supplied to that project.
Storagetech custom-made 16" In-Line Flame Arrestors are passive devices that prevent the propagation of a flame or fire from entering into an opening in a pipeline or vessel discharging flammable vapour.
The flame quenching element is designed to be three or four times the area of the pipe in which it is installed, and is assembled between two flanged reducing spools. The element comprises a tightly rolled scroll or scrolls of crimped stainless steel ribbon to form passages through which the vapour passes. The area of each passage determines level of protection that the element provides. Storagetech™ In-line Deflagration Flame Arrestor has a Maximum Experimental Safe Gap as per standard, and is suitable for gas groups IIB and IIA.
Äager Brand Storagetech is capable of fabricating and designing highly sophisticated custom made, engineered to order shop fabricated tank equipment for any industrial gas applications.
About Äager
Started its journey in Munich, Germany, Äager was founded to be a core supporter of our customers, whoever requires high quality, affordable, fastest industrial products.
Äager promised to accomplish that by maintaining the highest safety and sustainability standards under its brands of ERGIL® and Storagetech™.
Traditionally, oil & gas were Äager's core business, however, with the time the product needed for various sectors has emerged. Then, we found ourselves actively working on alternative energy, power, water & waste-water, marine, and manufacturing sectors. We offer safety, environment, process products and special components for manufacturing.
Future requires products that are manufactured efficiently, with no environmental impact, safe, and affordable. We are here to support you for your project needs, wherever it is needed.
08 September 2020