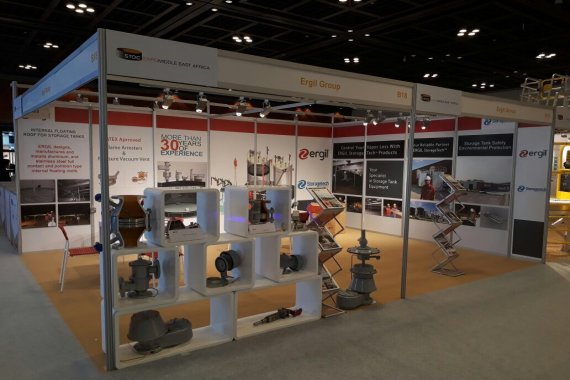 Äager GmbH announces its participation at StocExpo Middle East Africa 2017 after a successful showcase at StocExpo Europe 2017
18.04.2017 –  Storagetech as one of the main show sponsors announces its participation at StocExpo Middle East Africa 2017, taking place on the 26th & 27th of April at the Stand B18, Dubai World Trade Centre, Dubai, U.A.E.
Storagetech Dubai team will be demonstrating latest storage tank equipment development and sharing our previous experience with vapor emission control. Storagetech will provide key advantages of using one of the most important emission control product; internal floating roof. Being one of the main suppliers of internal floating roofs and external floating roof mechanical seals in U.A.E.,  Storagetech is very experienced with local regulations, conditions, and manpower availability.  In addition to internal floating roofs,  Storagetech will display and explain how storage tank pressure vacuum valves, blanketing system, and vapor control equipment are able to help reducing the vapor loss.
R. Oktay Altunergil, C.E.O. comments, " We are very proud of sponsoring and exhibiting at one of the most important events of the storage tank terminal industry. It is a great opportunity for us and our clients to come together and discuss new trends and challenges they have".  -END-
About Storagetech
Storagetech manufactures storage tank equipment, such as flame arresters, breather valves, gauge hatches, emergency relief valves, floating roofs, floating roof mechnical seals, floating suction unit, oil skimmers and drain system. Äager also provides many other products for energy industry including pressure vessels, storage and process tanks as well as fire fighting systems.
Äager has developed an excellent reputation internationally in the industry due to its total commitment to quality in every aspect of the business. Beginning with raw materials through process production and delivery, Äager has always insisted on the highest possible quality associated with the product lines.
Since 1982, Äager has been focusing on offering high quality services and products, with professionalism, expertise and customer focused strategies. Äager grows rapidly thanks to its growing number of dedicated employees and expanding facilities. Äager currently operates in one of a kind 35,000 sq/m manufacturing facility in Mersin, Turkey, which enhances its advanced manufacturing capabilities and services. Äager is ISO 9001, 14001, OHSAS 18001, ASME U-4, S-2, R Stamp accredited and has CE/ ATEX certificates for its storage tank products.