Storagetech self-supporting geodesic dome represents the pinnacle of precision designed aluminum covers. Laser cutting technology used for fine and precise cutting of the roof panels.
Storagetech's domes are fully compliant with ISO EN 1090, API 650, AWWA and ASCE7 specifications. The highly modular and standardized design gives chance to compete with any supplier on project pricing. Light-weight construction allows covering large diameter tanks without intermediate support.
Material quality offers excellent resistance to atmospheric corrosion (e.g. industrial reservoirs or seaside facilities), virtually maintenance free, and is designed for extended service life.
At Storagetech, we provide a complete turnkey solution for your aluminum dome roof needs. Our domes are designed, supplied, and installed by our factory crews who are available for on-site support. Our team of dedicated professionals, combined with our innovative solutions and wealth of industry experience, ensures that your project is handled with the utmost care and efficiency. Trust us to provide the total package for your aluminum cover requirements.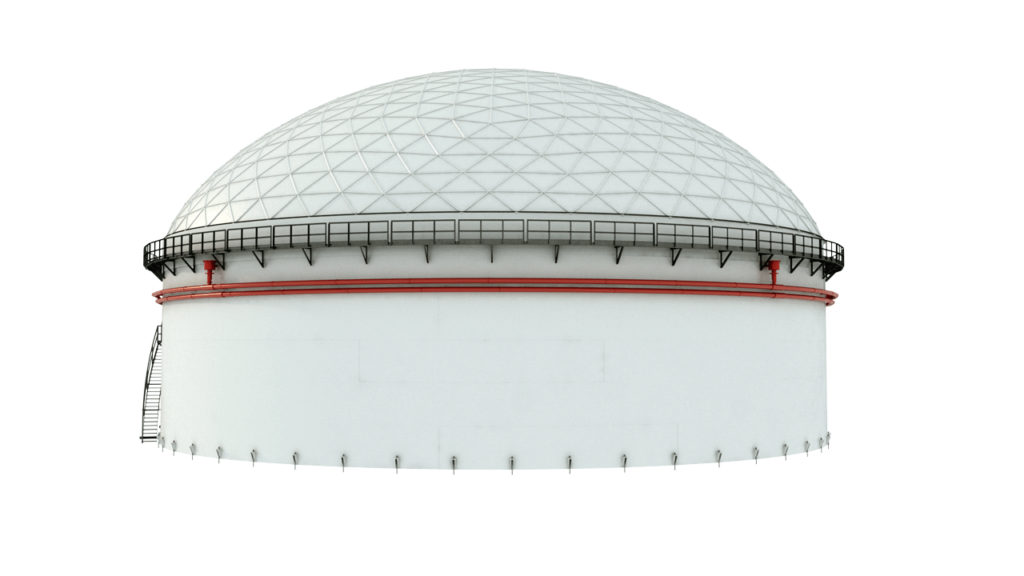 Storagetech Storage Tank Aluminum Dome Roof Advantages
Superior Engineering: We use the latest engineering structural analysis software, 3D CAD design software, and structural design of steel connections as compared to traditional outdated calculation methods.
Designing with local parameters in mind: We design our dome roofs as per local environmental, and seismic parameters with keeping regulations in mind.
Water tightness: Storagetech dome roofs are guaranteed absolute zero-leakage. Our design avoids water penetration, deterioration and water intrusion.
Tailor Made Profiles: Our profiles are designed as per higher risk factors and avoid using lighter non compliance profiles.
Choosing the Right Bolts: We always recommend using lock bolts to increase the profile connection stability.
Choosing the Right Seal: We always recommend using wiping seals to avoid leakage and increase life time cycle.
Risk Factors: We consider high risk factors in our calculation and provide the safest profile design as per the international standards.
Internal Pressure: We design our domes considering your storage tank internal pressure and offer tailor-made solutions to fully meet your requirements.
New Tank or Existing Tank: Whether it is an existing tank or a new tank, our design provides custom solutions considering your tank design, and local requirements.
Experience in Installation: We guarantee availability of experienced site installation team or supervisor as per your requirements
Request a Quote
Do you need a quick quotation? Fill out the below form and expect our reply soon
Read more from us about Aluminum Geodesic Dome Roof!