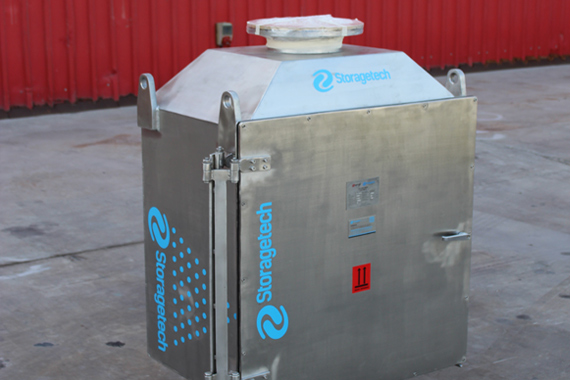 Istanbul, November 20, 2020 – An Äager Brand Storagetech, a worldwide specialist in engineering, successfully completed to work in cooperation with Petkim and STAR Refinery, the group companies of SOCAR Turkey, for CO2 Absorber. Storage Tank Vent CO2 Absorbers are essential for energy production because they maintain pH and low conductivity of demineralized water.
Storagetech has collaborated with SOCAR Turkey Enerji A.S. (SOCAR Turkey), a subsidiary of SOCAR (State Oil Company of Azerbaijan Republic) which is one of the most deep-rooted global oil and natural gas companies, on a project that includes the designing, fabrication and supplying of CO2 Absorber. Storagetech CO2 Absorber, particularly designed with new technology for condensate, demineralized water tank and other storage tank vents, acts as a barrier between the atmosphere and the tank.
The use of demineralized water, which has all of the mineral impurities removed, is very important for energy production, where there are extremely strict and legal requirements. In such facilities, demineralized water is generally exposed to CO2 from the air. This increases the conductivity of demineralized water and gives it a polluting appearance. At this point, CO2 absorbing units come into play, allowing you to maintain the stable pH and low conductivity of demineralized water for demineralized and condensation tanks. They prevent CO2 being absorbed in process water by removing CO2 from air flowing into the tank. Storagetech CO2 Absorber is made to be absolutely environmentally friendly equipment.
At this point, Storagetech has accompanied Petkim and STAR Refinery, the group companies of SOCAR Turkey, to support them for their process needs. One of the main reasons why Storagetech is preferred by SOCAR is its ability of manufacturing high-quality and equipped products in terms of design and working principle. In addition, Storagetech stands out among its competitors since it does not compromise on quality in products fabricated professionally.
About Äager
Started its journey in Munich, Germany, Äager was founded to be a core supporter of our customers, whoever requires high quality, affordable, fastest industrial products.
Äager, one of the leaders of the sector with the services, it has provided for almost 40 years, promised to accomplish that by maintaining the highest safety and sustainability standards under its brands of ERGIL® and Storagetech™.
Traditionally, oil & gas were Äager's core business, however, with the time the product needed for various sectors has emerged. Then, we found ourselves actively working on alternative energy, power, water & waste-water, marine, and manufacturing sectors. What we do is offer safety, environment, process products and special components for manufacturing.
Future requires products that are manufactured efficiently, with no environmental impact, safe, and affordable. We are here to support you for your project needs, wherever it is needed.
14 December 2020