Biogas
Storagetech always supports sustainable energy transition from high emission rate fossil fuels to renewable energy and allocates a considerable amount of R&D budget to renewable related products and services. Biogas is one of the main renewable sectors that we focus on. Biogas is produced when mostly unwanted organic matter, such as food or animal waste, is broken down by microorganisms in the absence of oxygen, in a process called anaerobic digestion.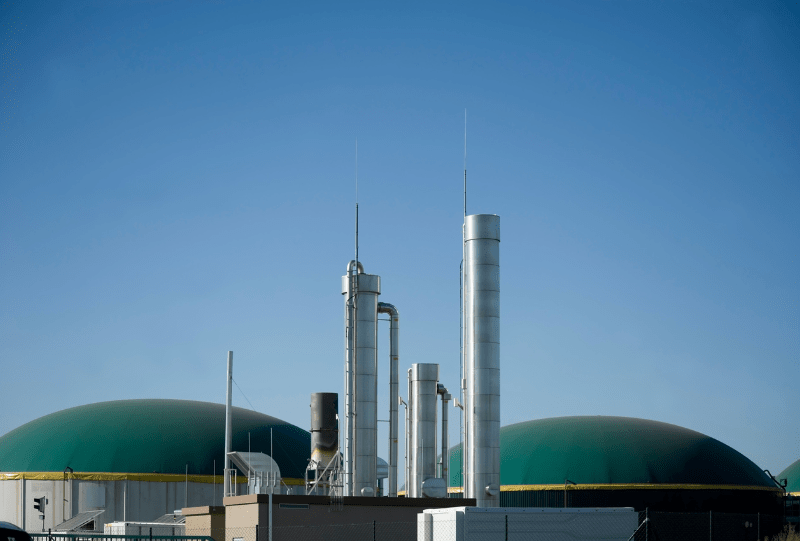 We provide biogas digester safety equipment; such as
Pressure vacuum relief valve,
Flame arrestors,
Emergency relief valves,
Gauge hatches & manhole covers,
Mechanical level indicators
Safety selector valves
Odor control units & dryers
Biogas is a mixture of gasses, primarily consisting of methane, carbon dioxide and hydrogen sulphide, produced from raw materials. Particularly methane is a harmful gas that has to be stored and treated carefully. Thanks to our 40 year industry experience, we have completed more than 100 biogas digester cover equipment projects. We are well experienced in international standards; such as ISO 20675:2018, Water Environment Federation's Manual of Practice (MOP), ASME …etc
Storagetech developed the best solutions for every sector. The product ranges are integrated with the sectoral needs from a customer-oriented perspective. Environmental solutions are developed by their team for people and the industry itself. Storagetech products offer a better and safer solution for all types of storage tank equipments.
The highly qualified engineering team of Storagetech works closely with their R&D team and their customers. This working philosophy in different sectors is the key to their 40 years of experience. Their technical expertise and know-how are developing with the latest innovation for offering always the best solution.
Following the latest technology is one of the priorities for Storagetech. Their R&D team contributes their research processes in-house and also at local universities. Their manufacturing store uses the latest technology for minimizing people's touches and mistakes during the process. Special computer and calculation programs are used for the best technical drawings.
Storagetech's product range complies with all relevant industry standards. These standards include ATEX, ISO 16850, PED, and ASME U and R.
Our manufacturing facility is accredited to ISO 9001, ISO 45001, and other international standards.