The most important case in the usage of this type sealing is to increase the material strength by reducing the weight and to ensure the sealing of, especially light and corrosive storage products.
Storagetech recommends the use of Scissor type sealing in the lie of pantograph seal in order to balance the price/performance ratio for extremely corrosive volatile or light storage products. Effective seal performance can cover openings up to 200 mm. And it can work out with ±100 mm tolerance.
Thanks to its superior spring system, it successfully meets 300 mm rim width and works effectively maximum ±100 mm tolerance in range.
Design Features
Each seal is customized to fit the tank to ensure maximum performance, long life, and safe operation. Primary seals include a variety of configuration and component options. The shoe is connected by braces to the floating deck and is held tightly against the wall by springs or weighted levers a flexible coated fabric (made of Teflon) is suspended from the shoe seal to the floating deck to form a vapor barrier over the annular space between the deck and the primary seal. Storagetech liquid mounted primary shoe seals can be categorized as PANTOGRAPH and SCISSOR type seals. The most important issue that affects the performance of the sealing system is that the load which is applied to the shoe seals needs to balance and this force covers all openings through the rim. Mechanical seal systems are restricted to the lined storage tanks for not to damage the cladding material.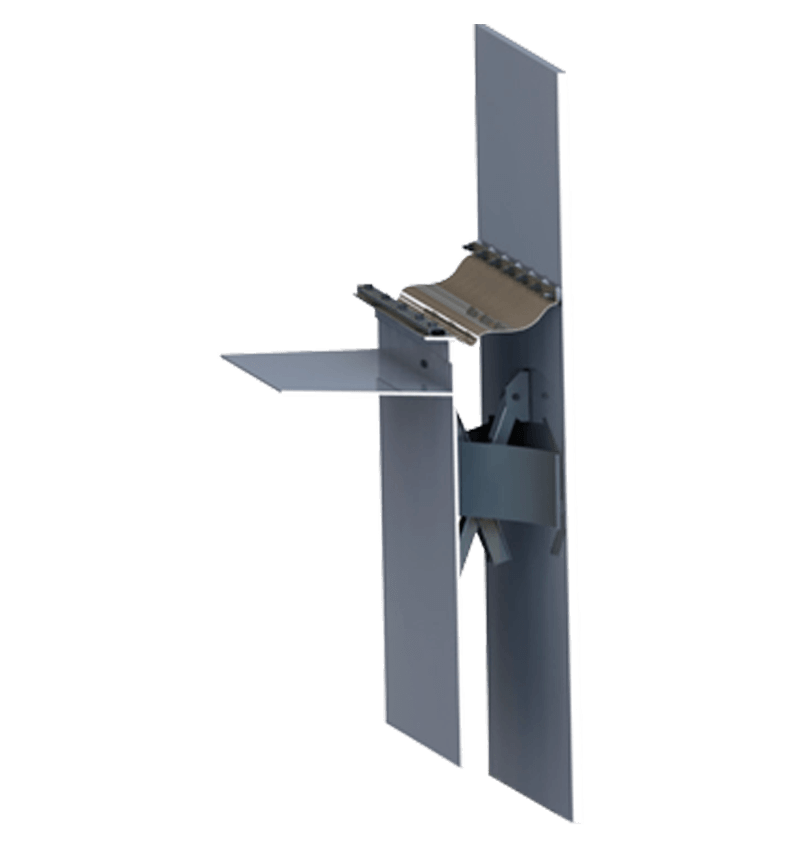 Part List
| No | Part Name | Material | Remarks |
| --- | --- | --- | --- |
| 09 | Foam Dam, Thk.3mm | Optional | – |
| 08 | Rim Clamp | A653 / G90 | xxxx |
| 07 | Fabric | Teflon | xxxx |
| 06 | Spacer Plate Scissor | ASTM SA 240 gr. 304/316 S235 JR (G) | 1/4 Hardened |
| 05 | Rim Scissor | ASTM SA 240 gr. 304/316 5235 JR (G) | 1/4 Hardened |
| 04 | Spring | ASTM SA 240 gr. 304/316 S235 JR (G) | 1/4 Hardened |
| 03 | Rim Clip | ASTM SA 240 gr. 304/316 S235 JR (G) | 1/4 Hardened |
| 02 | Shoe Bracket | ASTM SA 240 gr. 304/316 S235 JR (G) | 1/4 Hardened |
| 01 | Shoe Plate | ASTM SA 240 gr. 304/316 S235 JR (G) | 1/4 Hardened |
Request a Quote
Do you need a quick quotation? Fill out the below form and expect our reply soon