Model No: 1500
Storagetech's Storage Tank Vent Absorber, model no 1500, is equipped with additionally replaceable MMHasso™ Filter cartridges that contain cells and particulate filters. With its new design, the model 1500, is more accessible and compact.
Advantages
Model 1500 is designed with both the outer casing and filter system in a cylindrical way. This unique design of Storagetech's talented R&D and engineering team will ensure customers:
Prevents humidity.
The pollutant (unwanted) gas filtration reduces pollution by up to 99%.
Remove corrosion effects.
Various chemicals can be absorbed in one unit at the same time.
The filter basket can be easily replaced in minutes.
Specially designed for the usage of the top of the tank and on the ground.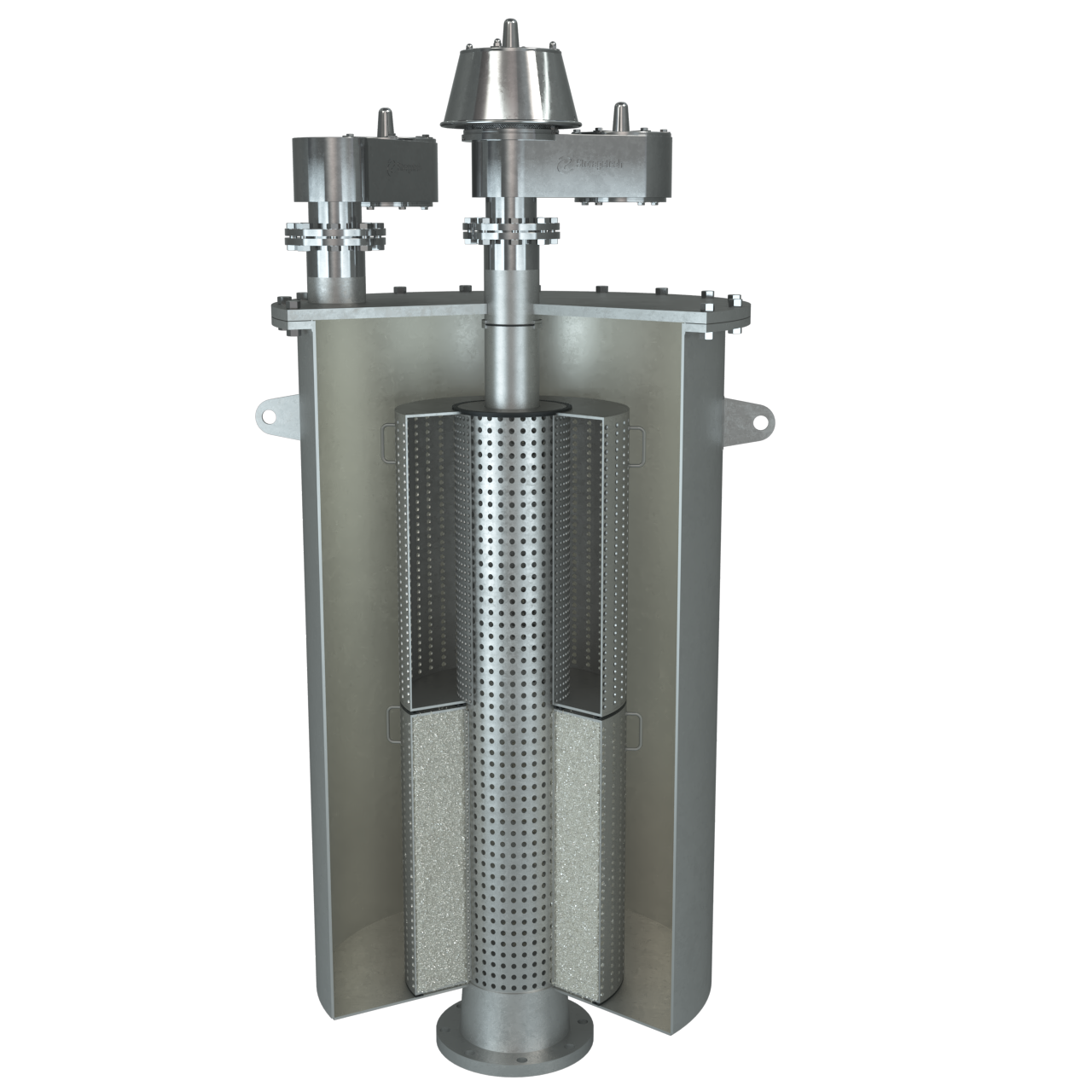 Low-Pressure-Drop: absorbers to remove pollutant gases from the airflow during the filling and stored condition of storage tanks.
Can be equipped with PVRV
Can be specifying with AL, CS, SS and other higher grates.
Flange connections are according to ASME/DIN/JIS.
Manufactured in accordance with EPA and EN standards.
It works up to 10.000 m³/h gas flow rate.
Each request is specially evaluated and applicable methods are presented. Filtration process is carried out by both physical and chemical methods.
Absorbent must be chosen truly. Based on the correct definition on the unwanted gas or content, appropriate absorbent method can be chemical, physical or both which shall be applied to provide maximum effectiveness.
Storagetech absorbers are particularly designed with new technology for low vaporize temperature chemicals, hazardous chemicals, and other storage tank vents.
Dry Scrubbers & Absorbers are mounted on the breather valve of the tank. It may be gathered on the top of the tank or on the ground.
Tanks Farms implies the group of tanks that consists more than one tank. Storagetech Tank Vent Absorber can be used also for the tank farms instead of using different absorbers for each tanks and that brings a serious cost reduction for the companies. It works perfectly for the tank farms and comes out with the same performance such as using it for the one tank.
Request a Quote
Do you need a quick quotation? Fill out the below form and expect our reply soon
Read more from us about Air & Gas Absorbers / Scrubbers!