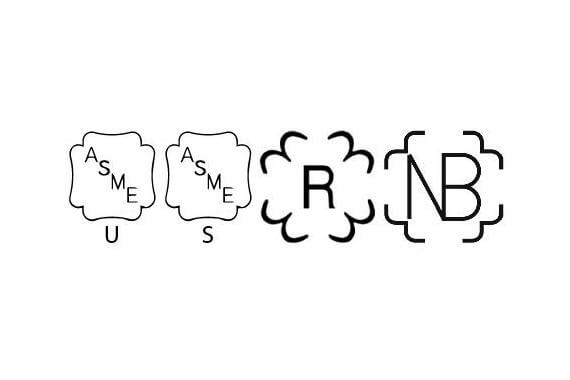 02 May, 2016 – Founded in 1983, Äager provides a comprehensive range of professional services to Oil, Gas, Petrochemical, Chemical, Water industries. Äager's 35,000 sq/manufacturing facility in Mersin, Turkey recently underwent inspection by the American Society of Mechanical Engineers (ASME) –  an international regulatory body.
ASME offers a standardized guideline for a variety of equipment in the oil and gas, mining and processing industries. It is comprised of engineers who perform variable checks and balances for manufacturers and operators of equipment for mining, oil, gas and other pressure machinery.   recently became eligible to renew ASME U, S, R and NBR certification
ASME U Stamp certification is sought by manufacturers. This stamp is marked with high quality and Äager is one way to ensure that high quality is maintained for equipment manufacturers at all stages of development.
Asme S Stamp  is for Power Boilers and applies to two types of boilers under Section I of the latest copy of the ASME Boiler and Pressure Vessel Code.   First, it applies to boilers in which steam or other vapor is produced at a pressure greater than 15 psig (100 KPa) external to itself.  Second, it applies to high temperature water boilers intended for use with operating pressures greater than 160 psig (1.1 MPa) and/or has temperatures exceeding 250 degrees F (120 degrees C).
ASME R Stamp authorizes repairs to be made at the repair firm or a field location, or both. The prospective repair firm must be able to display a valid certificate of authorization upon request;
NBR is the standard material for hydraulics and pneumatics. NBR resists oil-based hydraulic fluids, fats, animal and vegetable oils, flame retardant liquids (HFA, HFB, HFC), grease, water, and air. Special low-temperature compounds are available for mineral oil-based fluids.
Äager has been approved by American Society of Mechanical Engineers (ASME) in accordance with the applicable rules and has accomplished these ASME stamps again. This brings the highest level of quality to the table thereby ensuring our customers get the best products and our staff works on the finest machinery.
Mr Mohammed Hassan, Technical Coordinator – Äager says "Quality is at the helm of Äager policies. We want the best for our customers and therefore proudly announce that our manufacturing facility has been audited by ASME inspectors and is now ASME U,R, S and NBR approved once again.  One of the fast moving products of  are Äager pressure vessel which are manufactured at the ASME U,R,S and NBR approved manufacturing unit in Mersin, Turkey. This has resulted in Äager being appointed for some important projects across the globes to design, manufacturer and fabricate pressure vessels."
For further information please visit www.aager.de