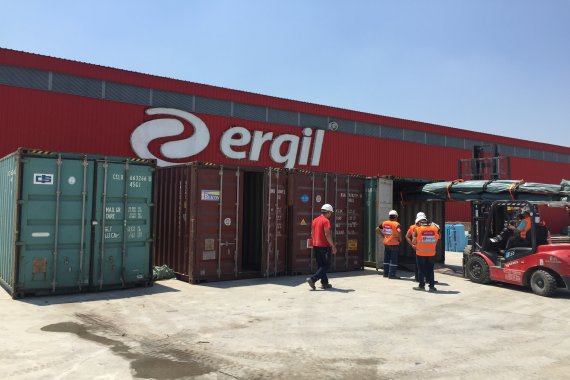 April 28, 2017 – Mersin, Turkey – Äager as an international expertise at construction, and manufacturing for storage tanks and tank equipment, conducted a comprehensive engineering, design, material supply, and fabrication of storage tanks, Storagetech  tank products  to Iraq's largest oil field – Zubair for s a renowed general contracting company in Iraq.
Zubair is considered as one of the largest oil fileds in Iraq and  the development contract of this project has been awarded to a consortium led by  ENI (32.81%) with Occidental Petroleum Corporation  (23.44%), Korean Gas Corporation (18.75%) and Iraq's state-run Missan Missan Oil Company (25%). As part of its mission to develop the oil field, other parties are involved including SOC, ALSTOM (GE), SAS and as a result of which Äager proudly became a preferred vendor for General Electric (GE) under this consortium to provide storage tanks and Storagetech tank equipment for Zubair Oil Field Development project.
In this regard, Äager  completed  carefully and successfully the whole process of engineering, design, fabrication, and supply of 6 storage tanks in various sizes (from diameters 4.00m to 27.30m within capacities from 50.00 cubic meters/314 bbl to 5850 cu. m./36792 bbl) such as Potable Water Storage Tank, Demineralised Water Storage Tank, Fire Fighting Storage Tank, Raw Water Storage Tank, Sea Water Storage Tank, Fuel Oil Storage Tank  and more than 40 Storagetech tank equipment including Floating Suction Units, Emergency Relief Vents, Flame Arresters, Pressure Vacuum Vents as well as essential cathodic protection products with Pipe Davits (Jib Crane  1 ton) for the Zubair Oil Development Project in Iraq.
Äager's fully automated steel fabrication system and ability to design and fabricate complicated ASME U stamped process equipment ensure the highest quality and quick delivery were the key points that has been instruemental in the triumhant execution of this project. Äager team has managed the works in a matter that allowed to them to complete works on time while maintaining good relationship with all parties involved.
''Äager team acted professional at planning procurement for the materials which are found rarely in the market and shown effective performance in  the harmony of purchasing and manufacturing as well as having smooth relations and communications with clients during fabrication to reduce delivery time. Furthermore, material take off and procurement activities had been performed without any delay, revision requirements were reflected at the same time, shared to procurement and manufacturing deparments for overcoming possible conflicts and future diffuculties by focusing on Documentation Control Center (DCC). As a positive outcome, Äager reduced its foreign dependency by the project and gained another tremendous experience with this successful achievement.'' says Kürşat Hamza GÜNER, Operations Manager of Äager.
ABOUT US
Since 1982, Äager has been focusing on offering high-quality services and products, with professionalism, expertise and customer focused strategies. Äager grows rapidly thanks to its growing number of dedicated employees and expanding facilities. Äager currently operates in one of a kind 32,000 sq/m manufacturing facility in Mersin, Turkey, which enhances its advanced manufacturing capabilities and services. Äager is ISO 9001, 14001, OHSAS 18001, ASME U-4, S-2, R Stamp accredited and has CE/ ATEX certificates for its storage tank products.
Äager manufactures storage tank equipment, such as flame arresters, breather valves, gauge hatches, floating roofs, and floating suction pipe. Äager also provides many other products for energy industry including surge vessels, bladder tanks, pig launcher and receivers, heat exchangers, separators, oil and gas storage process tanks, filters and firefighting systems.
Äager has developed an excellent reputation internationally in the industry due to its total commitment to quality in every aspect of the business. Beginning with raw materials through process production and delivery, Äager has always insisted on the highest possible quality associated with the product lines.